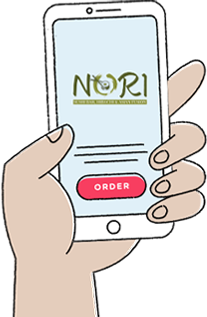 We make the online ordering process easier. Our online ordering system is the best solution, especially if you have a busy lifestyle.
It allows us for an efficient customer and order management. Whenever you place an order, an efficient online ordering system sends notifications via email or SMS to help the restaurant staff make the order execution faster.
The convenience of mobile ordering. From meetings to crowded areas, there are times when you may not be able to make a phone call to order food. Our online system allows you to order anytime, anywhere using their mobiles, tablets or other handheld devices.
SUSHI ROLLS AND SAUCE
We use a pristine quality fish and attention to every detail define the Nori Restaurant experience.
SUSHI ROLLS AND SAUCE
When you put that much effort into the breading, you can't go easy on the sauce! We hand-brush sauce onto every wing, to coat each one with the perfect amount of flavor.
Follow us in social

@ norirestaurants
304 Ashourian Avenue Unit 101 - 102, St. Augustine FL 32092
norirestaurants@gmail.com